Lemon Sips:-
Dr. Kellyann's Lemon Sips is a powdered drink that helps to reduce fat and cellulite. As Dr. Kellyann states on her site, Lemon Sips is a great way to enhance the slimming, nourishing, and beautifying effects of all other products of her, thanks to their detoxifying and hydrating properties.
Dr. Kellyann Petrucci (M.S., N.D.) is a certified naturopathic physician and certified nutrition consultant. She is also one of the New York Times bestselling author. She has written many books. She is a frequent contributor and guest on television shows, including the Dr. Oz show, The Doctors, national news shows, and more.
Benefits of Lemon Sips:-
As Dr. Kellyann claims it is an all-natural, sugar-free, fat-free, citrusy-delicious drink –
Helps detoxify and flush toxins from your system
Helps diminish cellulite and skin dimpling
Rehydrates and nourishes your skin
Helps protect skin from UV damage
Gives you a healthy boost of energy
And, of course, quenches the strongest thirst!
Lemon Sips Ingredients:-
Its main ingredients are lemon powder, Stevia leaf extract, and Melon juice concentrate (SOD B®). Dr. Kellyann states that the real magic ingredient in her lemon ships is SOD B®.
SOD B® is a dried melon juice concentrate naturally, rich in Superoxide Dismutase (SOD), obtained from a non-GMO proprietary variety of Cantaloup melon. As a concentrate, SOD B® is not pure SOD and also contains secondary antioxidants such as glutathione, carotenoids, coenzyme Q10, and vitamins C & E. Pure SOD is an antioxidant enzyme that's found in all living cells within the body. The enzyme works to speed up chemical reactions in the body, and it plays a critical role in reducing oxidative stress that's associated with the formation of many life-threatening diseases.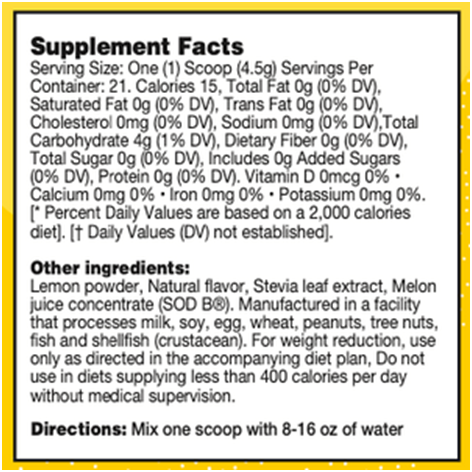 Dr. Kellyann Lemon Sips Price: – Each jar of Lemon Sips contains 21 servings. Mix it with 8-16 oz. of water and drink. The cost of one jar of lemon ships is $45 + shipping charge
3 Jar of lemon ships – $114
6 Jar of lemon ships – $216
Dr. Kellyann Lemon Sips Review:-
 We tried to find consumer reviews and analyze the product in various aspects; we found maximum positive reviews about Lemon sips. The latest clinical study confirms and strengthens the quick and lasting efficiency of SOD B in the improvement of daily performances. The main results reported a significant reduction of stress and physical fatigue, as well as an improvement in cognitive performance and overall life quality.
On Amazon, most people have given 5-star ratings. Also, most reviews are positive and people have shared their experiences with this product. Below are some reviews from Amazon about Lemon Sips-

On ubersuggest, we tried to find out how popular this website is. We found that monthly traffic on dr. kellyann's website is huge which shows that this website is successful in attracting an audience. Also, the DA of this site is great and shows a high chance of ranking in terms of Google search.

Final Wording:-
In our opinion, Dr. Kellyann's Lemon Sips is a genuine product. And it is worth buying.