What is WorkForStudents?
WorkForStudents is a Recruiter Company for Vector marketing. This site is regulated by vector marketing. They Urge Students to sell Cutco Cutlery for them with promises of making an easy $15 an hour.  They recruit school and college students who are at least 17 years of age for vector marketing to sell Cutco Cutlery mainly knives.
Vector Marketing is a direct selling subsidiary company of Cutco Corporation. Its headquarters is based in Olean, New York, US.  Vector marketing company was founded in 1981. In 1985 it was acquired by Alcas (Cutco Corporation's old name). They have more than 200 independently run district offices in the US, Canada, and Puerto Rico. As vector marketing claims worth $273.8 million sold products in just 2019. The company sells via individual sales representatives who sell Cutco cutlery via one-on-one demonstrations, typically through home visits. 
CUTCO Cutlery is a high-quality line of kitchen cutlery, kitchen accessories, and sporting knives. CUTCO has been manufactured in Olean, New York since 1949.
WorkForStudents Review:-
The Los Angeles Times claims that Vector meets the Federal Trade Commission (FTC) definition of a multi-level marketing company because they sell their product through person-to-person sales. We have studied lots of reviews about WorkForStudents on various platforms most are negative.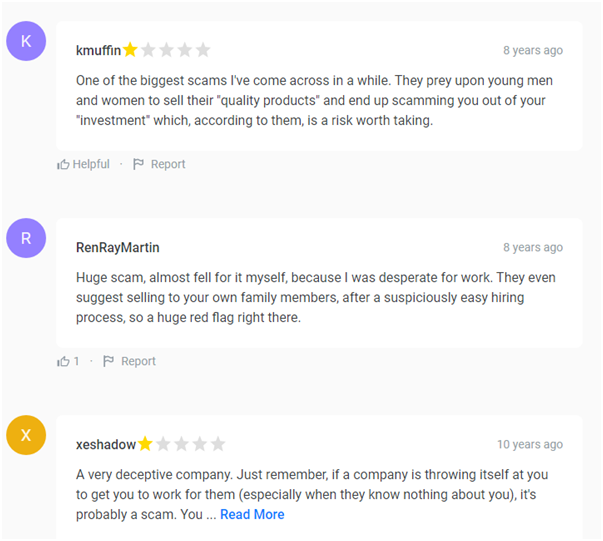 Image Source: mywot.com
Is WorkForStudents Legit?
Yes, WorkForStudents is a legit website. It is a part of vector marketing (A subsidiary of Cutco Corporation).  Below are some key points about this website:
According to DNSFilter, this website is safe.
This website is very old- The date of registration of https://www.workforstudents.com/index.do# is 01-21-1999.
On scam advisor, the workforstudents website has gained a 77 trust score out of 100. Which, shows that this site is legit and safe to use?

When we analyze Workforstudent website on Ubersuggest, we found that monthly Organic traffic on this site is very low as you can see below which shows that this site is not successful to attract an audience. DA of this site is good this shows a good ranking in terms of Google search results.
To sell the product first you need to buy your own set of Cutco Knives to sell and also you have to attend training programs from time to time at your own expense. Employees of the company encourage you for an appointment and for every sale you will get a commission of 15%. If you continue no sales they will hold your amount so you would make sales for them to get more money.
Final Wording:-
In our opinion, WorkForStudents is not a scam or fraudulent company. The company is legal, but should we be supporting a business that lacks transparency and uses manipulative marketing to sell its products?  Also, there are many expenses and terms they will hide in starting like attending training programs at your own expense, using of personal vehicle to sell products, and your cell phone to make calls. Also, some students are complaining that they are getting their commission in installments.   
We highly recommend our readers to check carefully all their terms and conditions before reaching a final decision.  Some students found it helpful as with this job they are enhancing their communication skills and also they are getting little money in summer vacation.
Is there any online job for students?
Yes, there are plenty of online jobs. It all depends on your skill. If you don't have any skills then we highly call you to learn any skill first because on the online platform there are millions of jobs from all over the world. As in an online platform you can work from home or you can get a contract at home that requires minimum commute conditions. Freelancing is also a good option if you are finding an online job. There are lots of freelancing websites like- Upwork, Toptal, CloudPeeps, PeoplePerHour, Communo, 99designs, Freelancer, etc.