5 Best Digital Wallet App Development Companies in the USA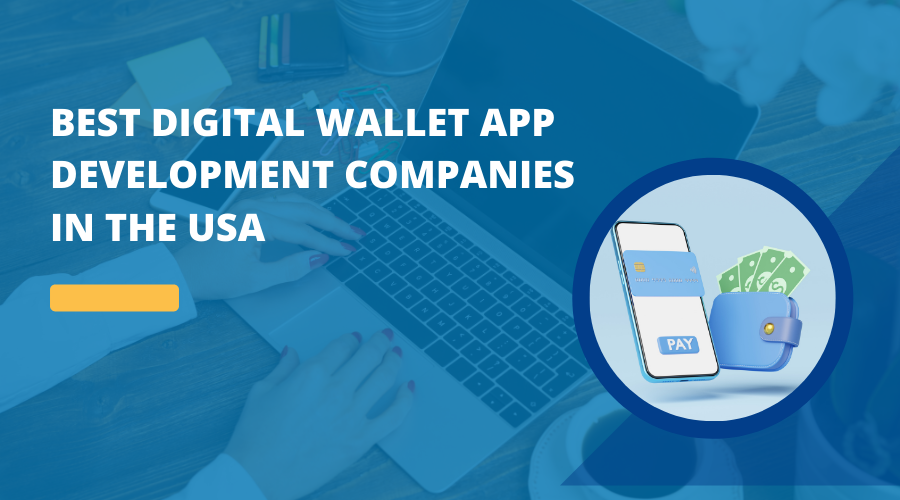 Digital wallets are gaining popularity with each passing day. These apps benefit the users in multiple ways, like a faster checkout process, expense tracking, and more.
According to a study by Statista, there will be 1.31 billion mobile payment transactions in 2023. So, considering a digital wallet app development for your business can be profitable.
There are 3 major types of digital wallets-
The first type of digital wallet is a closed wallet. It is developed by companies that want to target specific audiences. The user can make transactions using a closed wallet only with the wallet issuer. Multi-tier organizations or eCommerce service providers can leverage the features of a closed wallet.
The user can make payments at the listed stores or merchants in a semi-closed wallet. The wallet keeps the user's data safe in one place and facilitates smooth transactions. In a semi-closed wallet, the user can send money to another recipient in the same wallet network.
Open wallets are partnered with banks where users can make online payments and track the entire transaction history. In this wallet, both the sender's and receiver's accounts are mandatory in the app to make a payment.
Consider a well-known app development company to get a high-end digital wallet app as per your business requirements.
Here is a list of the top 5 well-known digital wallet app developments you can hire to build a digital wallet app.
Top 5 Digital Wallet App Development Companies
AppsChopper
AppsChopper is a leading mobile app development company founded in 2011 with offices in New York, Walpole, and Boston. They deliver high-performing digital wallet apps for Android and iOS, catering to business requirements. Their app developers have hands-on experience working with the latest technology and help make the business competitive.
AppsChopper develops customized digital wallet apps by including features like a secure payment gateway, SMS notifications, password settings, etc. They integrate the latest payment technologies for an excellent user experience, like near-field communication (NFC), QR code configuration, Bluetooth, and more.
AppsChopper is a recognized digital wallet app development company where app developers understand the business requirements first and then build the app. They have delivered best-in-class digital wallet apps to more than 250 clients worldwide and rated 4.8 stars with 97% of customer satisfaction.
SemiDot Infotech is a software app development company delivering high-end digital wallet app solutions. They build top-notch digital wallet app services by leveraging the latest technologies for providing a flawless user experience. Their app developers have built top-quality mobile wallet apps for multiple platforms.
SemiDot Infotech serves clients' purposes ranging from startup to enterprise levels. The company values their client's business reputation and provides several engagement models. They aim to provide the best solutions and ensure maximum client satisfaction.
SemiDot Infotech developers are well-versed with every latest technology trending in the market. They deliver bespoke and on-demand mobile wallet app development solutions that are the need of today.
Emizen Tech is best known for executing the best industrial strategies and technologies to meet clients' business expectations. For the last 8 years, they have been serving their clients with best-in-class digital wallet app development solutions.
The company aims to build futuristic eWallet mobile apps for SEMs and Fortune 500 companies. At Emizen Tech, the developers provide high-end digital wallet solutions to all sizes of businesses. They will guide you from app ideation to development, app testing, and post-app launch maintenance & support.
The team of experts deploys high-performing digital wallet apps leading to improved efficiency, better performance, optimized business processes, and more. Emizen Tech company pays attention to the client's business requirements and then builds the app. They know how to transform their client's app ideas into actionable software solutions for better business growth.
Nimble AppGenie is recognized as one of the global leaders in mobile app development. They always believe in delivering the highest quality app to their clients.
Nimble AppGenie develops creative and innovative digital wallet apps with engaging UI/UX designs. App developers working at the company use well-known technologies while creating a digital wallet app. That includes Artificial Intelligence and Machine Learning to drive maximum ROI for their client's business.
The agency builds eWallet apps based on their client's requirements, and for multiple platforms, like Android, iOS, and the web. Nimble AppGenie has 50+ experienced software developers who know how to make a digital wallet app that will stand out from the crowd.
Itexus is a custom software app development company providing solutions for FinTech, Healthcare, Retail, Hospitality, Education, and other major industries. They have hands-on experience developing custom-made mobile & web wallet solutions for startups & enterprises.
At Itexus, the developers craft highly interactive and aesthetically-pleasing digital wallet apps. They follow major security measures to deliver a better user experience.
Concluding Thoughts
The above-mentioned are the top 5 digital wallet app development companies you can hire to develop high-end digital wallet apps. It is better to choose a company that meets all your business expectations and makes your app stand out in the crowd.