How To Develop An Audio/Voice-Chat Social Media App Like Clubhouse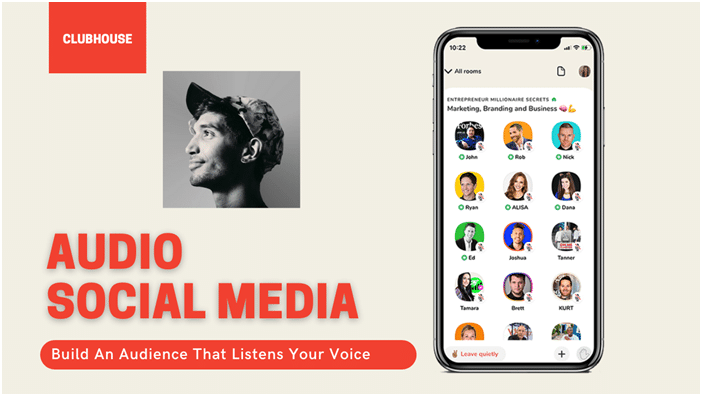 Do you think Clubhouse would be the next, sensational audio-only social media platform?
Each of us spends most of our time online searching for the services or products we need. Whether it's about education or entertainment, we on social media platforms. Be it Twitter, Facebook, or Instagram, there is something for everyone to perform on. But, as we live in a competitive world, tech experts attempt hard to roll out something new every single day.
Apart from other social media platforms, a new app is knocking on the market, namely Clubhouse. It is an audio-only app that demands the new user for the invitation, join the chat room, and then connect through audio.
Today, we are here with a post to put forward some lesser-known facts related to this social media app.
What Is a Clubhouse?
An audio-only social media app, Clubhouse permits access through an invite from its current members. Also, the user has an iDevice on Apple.
An audio social media network, Clubhouse is a hybrid of talkback radio, conference calls, & Houseparty that works like a live podcast app. You can select various topics of interest, like books, tech, travels, or business, and then get recommendations with the conversation rooms and individuals as per your interests.
The conversation room is akin to a conference call, but here only a few people are on the mic, and others just listen to it. In a correspondence with a phone call, after the conversation gets over, the room is then closed.
Clubhouse Stats Showing Its Popularity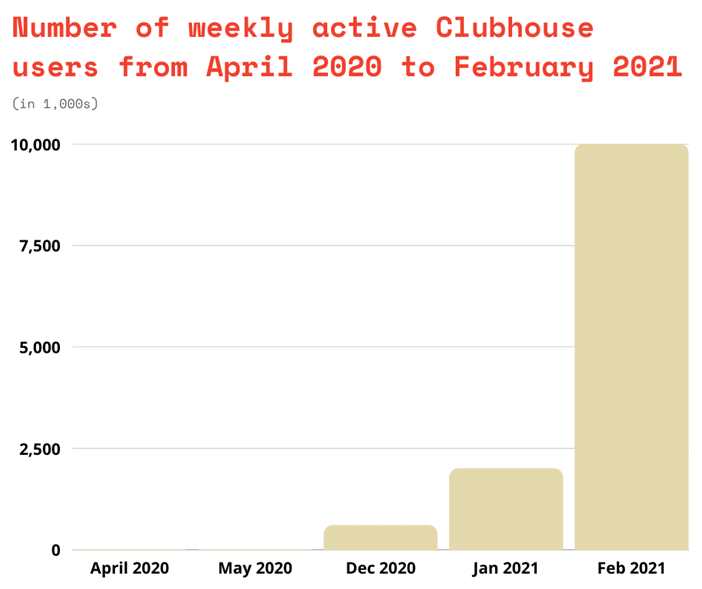 Clubhouse holds 10 million downloads all over the world as recorded in Feb'2021.
The Clubhouse has approximately 2 million active users weekly.
Initially, the app was valued at $100 million. Post an initial round of Series A funding it attained a 12$ million investment.
As of January 2021, Clubhouse has invested the interest at $1 Billion.
Why Is Clubhouse So Popular?
The audio-based mode of communication makes Clubhouse unique from other social media platforms. It's an app that permits users to share interesting content audio-only.
A very special medium about this app is audio-only and ejection of the camera environment. You can talk about your emotions, thoughts, and views on specific things just with your voice. It's the best way to connect by rooting a healthy conversation.
It's very interesting to make new friends online with only a voice exchange who are strangers to you. With this audio-based app, it's possible today to craft more empathy.
It's the only app that pulls more users.
The tech innovators and celebrities were the only ones who got the first invites. Inviting influential people, in the beginning, was a reason behind this app's popularity.
Its owners have caught the right time to roll out this audio-based social network app.
Simple to Use
It comes with a simple design, intuitive UX, and handy buttons which make it easy to use. Easy process is a simple secret to the success of any digital product.
The Audio Based Apps Market is yet to reach its full potential
Leading apps offer audio-visual appeal and various functions that make communication enjoyable. Today's focus of social apps has shifted from one-to-one apps to one to many by using audio rooms. And out of all such audio social media network apps Clubhouse is the most popular.
The feeling of being together with virtually present people is the real magic of audio-based social media platforms.
Easy to share experience & knowledge
The LIVE experience and knowledge gained via such apps enhance value today. On-air lessons among the interested ones have become a joyful way to learn some new things.
Right marketing strategy used and initial users are celebrities and tech innovators
Moreover, it is a trend that has been gaining popularity among business, tech-innovators, and celebrities.
How Does An Audio Social Media App Like Clubhouse Work?
1. Find an Audio room or create one
Well, in such an app, joining an audio room is as easy as just clicking a link. Generally speaking, one needs the invitation first. Various servers are usually public and available through search functions.
Creating an audio room is also easy. A list that is available in the app reveals the rooms which you have already joined. You can also switch between them easily.
A 'Plus' icon allows you to make a room yourself. You can give it a name and can also add a photo to define it, and next, can also select a room location that's nearby and that's all. Now a room is created and a link will be generated that you can use to invite other people to be a part of it.
Once inside, your room will hold lists for text and voice channels. Simply, you can add and name the new channels, again using the "plus" icons. Every channel holds various control settings, including the invite-only feature, and private, and to select a few who can create the invite links.
Types of Audio Rooms
There exists a few audio rooms in audio-based social media apps. Let's know them below:
Open Public Rooms: Anyone can join such rooms and can view them also.
Closed: Such rooms are private rooms that can be joined and seen by only those who are invited.
Social: Such rooms are viewable and joinable by the one who has existing followers.
Club: The rooms that are hosted by a club and don't lie on the event calendar.
Listeners, Speakers, and Moderators
2. Make friends
To add friends to your list you need to find their names in rooms that you have already joined. Next, doing this will send a friend request to that user. You are just required to click a user name and draw in the User Profile of that person.
Even you can search for the users and also add them as your friends. Moreover, you can send the friend requests from your friend list directly, without even searching.
3. Connect accounts and create a profile
An audio-based social media app allows you to connect with other social media accounts to ease the tracking of the people you know and dig out your user profile. Moreover, it makes it easier for the users to know who is in this real-world to whom you may choose.
Well, connecting accounts is easy here, furthermore it performs in the same way with other social media and chat apps, chiefly by permitting you to connect by prompting you for your passwords for the other accounts.
4. Listen & Be Heard
On such social media apps, voice chat is quite easy. Just by entering a voice channel in a room will automatically turn your microphone on, which you have attached with your computer. Also, you can access the voice chat by crafting group calls or voice calls to your friends by clicking the icon on your Friend List.
After being a part of a voice chat, the app will provide you some handy and quick controls through which you can mute your mic and more. Even you can adjust your app's audio settings for voice chat and also video in the settings given. You just need to tap the "hand up" button to come out of your voice channel or a voice call.
Member Roles In Social Media App
Well, audio-chat social media apps usually hold two sorts of membership within a club. Let's know about below:
Founder: The head of the virtual cloud, founder of a club holds the authority to edit the description, invite the members, and even modify the rules. The app generally asks for at least one recurring communication.
Admin: The role of the admin is assigned by the club founder to the members of the other club. Admin holds the caliber to confirm and even remove the members from the club or set their privacy either public or private.
Members: Members can create private rooms and view and participate in both private and public rooms.
Followers: A follower can also follow the activities of a public club but has no right to craft a separate room.
How does Clubhouse make money?
App subscription
In-app advertisement
Premium pricing for authority speakers
Premium tickets for live audio talks or streams
A premium membership for Brands and Companies
Other Popular Audio Based Social Media Apps
Below are the top social networks that you can't miss.
Audlist – A Free App
A free audiobook app that's available for Android and iOS both, Audlist is widely accepted and offers an audio-targeted social network. It permits you to post big content audios along with short content.
Audlist permits you to connect with the content creators by sending audio messages on their posts. While interacting you can write anything. Just you can write a short title for your audio post.
HearMeOut – Free to Use App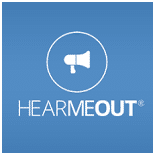 Available, both for Android and iOS, this platform is targeted on audios with a time limit of 42 seconds. This app also permits you to add one image as the cover photo of your post.
Moreover, HearMeOut allows you to share your content on any of social media platforms, like Facebook, Twitter, Instagram, etc.
This app has integrations with car technologies and allows you to listen to all the posts with no need to choose each one.
Listen – Free Download & Offers In-App Purchases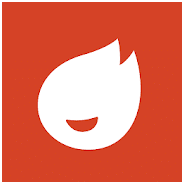 Again, available for Android and iOS, this app comes with a distinct approach to social, audio content. Listen allows you to record your voice and send it to others also. Post that, you start a face-to-face conversation with anyone.
Riffr – Available for Free
Today, available for Android and iOS, Riffr targets 5 seconds to 3 minutes long audio content. Moreover, it permits you to add one cover picture also to your sound and add a choice modifier.
Riffr then permits you to share your posts on other social networks also.
Steps To Make An App Like Clubhouse
1. Research and idea validation
Well, if you want to start with the development of such an audio-based social app, you will need to research your market to know about other players, your competitors. Well, in the case of Clubhouse, right now, there's no direct competitor in front of it.
2. Create an MVP/MLP
Today, the rapid-running industry makes it quite challenging to stay related when an app development may demand up to a year. That's why many development companies will offer to roll out a minimum viable product, or an MVP.
A version of your application that holds just the core features and is rolled out with some sort of limits, is an MVP. In game development, it is known as beta.
At the pre-development phases, you along with your team are required to discuss which features should be included in the MVP.
When it comes to Clubhouse, it is itself an MVP, which is a version that was first open for testing by general users.
3. Design & Development
In-app development, the design and development phases take too long. Designs are generally crafted in:
Low-fidelity prototype,
Medium-fidelity prototype, and
High-fidelity prototype.
The first prototype will lead to the establishment of basic UX design, the second one is for basic UI, and the last one offers a finished design.
Simultaneously, the project manager of your app development will discuss with you the development also. He will recommend you to develop for Android and iOS at the same time.
4. Feedback & Iteration
In the first stage, when you and your team will make the market research, they will settle on the to-be followed metrics for assessing the performance of the app. Post that after launching MVP or MLP, the step ahead is to monitor the app's performance and accumulate user feedback. This is much important for further development. Here, the user feedback can specifically point out any UX drawbacks and assist in prioritizing features for the next rollout.
KPIs To Measure The Success of Audio Social Media App After Launch
Let's check out the metrics on which you and your team will settle to check the app performance.
Number of downloads
Session length and intervals
Bounce rate
Activation rate
Daily sessions
Sticking rate (how frequently users open your app)
Screen flow (best for evaluating user experience)
Features for a Voice-Based Social Media Network App
Onboarding
Sign-up/log-in
Interests
Profile
Rooms
Active Feed
Audio Streaming and Calls
Audio rooms based on Topics
Moderation to detect and prevent spamming
Reminders/notifications
Settings
Following speakers/topics
Audio to text transcription
Integration with smart speakers & devices like Alexa
Integration with VR & AR for a virtual avatar of audio speakers
Cost To Make An App Like Clubhouse
Well, when it comes to the cost for Clubhouse-like mobile app development, it would be approximately $43,400 for iOS. Adding it to Android, will increase the cost, but not twice, as the apps will use a similar design and same backend design.
The cost of a Clubhouse-like app relies on the below factors:
Backend infrastructure
Target audience
Complexity and app features
Technology stack
Inclusion of visual element
Team Required To Build An App Like Clubhouse
Project Manager
Backend Developer
iOS developer
UX/UI Designer
Quality Assurance Specialist
Conclusion
As we have seen so far, Clubhouse has become a privately-owned startup regardless of lacking various things that are a must in a social network, such as video, file sharing, text chats, and more.
Right now, Clubhouse is only a new face to meet the communication craving. Who knows, it may become the future also. So, be quick and get the experience with both streaming platforms and communication apps today.