Thrive Causemetics:
Thrive causemetics is an online store for cosmetic products. The company offers a variety of makeup, skincare product, and makeup accessories. Their products are developed with powerful ingredients to create clean formulas with skin-loving properties. Thrive Causemetics "Liquid Lash Extensions Mascara" and "Brilliant Eye Brightener" are best-seller products and very much popular among consumers. They claim that their products are vegan, 100% cruelty-free formulas containing proven ingredients without the use of parabens or sulfates. Their High-performance products are developed at Thrive Causemetics Lab.
Thrive causemetics was established in 2015 by Karissa Bodnar. She founded the company after her friend Kristy died of cancer at just 24 years old. At present she also runs a mission of giving in the name of "Bigger than beauty giving mission" – For every product purchased, Thrive Causemetics donate to help people.  According to their 2021 impact report, since 2015, Thrive Causemetics has now given over $100 million in products and cash to their 400+ Giving Partners.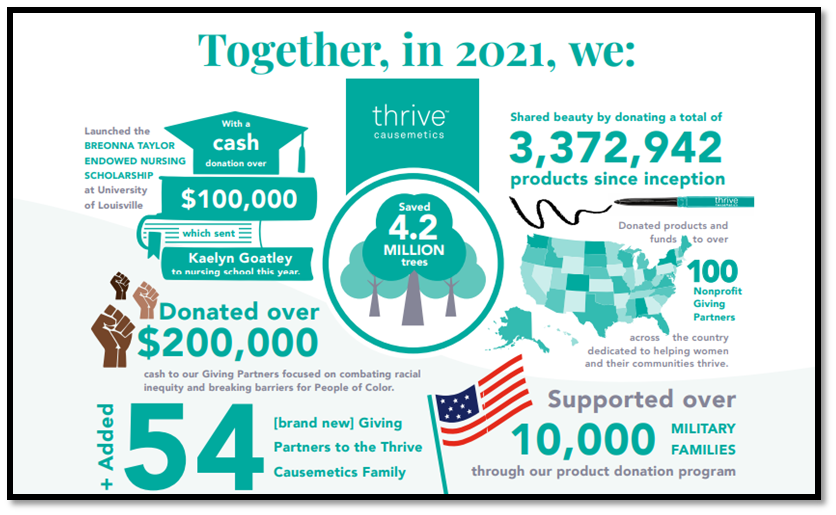 Thrive Causemetics Products Overview:
Thrive Causemetics offers a variety of skincare and makeup products like- Mascara, Eyeliner, Eye Primer, Eyeshadow, Lashes, Eyebrow Liner, and Eyebrow Gel for eyes. Face Primer, CC Cream, Concealer, Setting Powder, Blush, Bronzer, and Highlighter for the face. Lip Liner, Lip Tint, Lip Gloss, and Lipstick for lips; Brushes, Merch, Makeup Bags accessories, etc.  
 The best thing about Thrive Causemetics is it gives every single detail of its product ingredients. So you can decide whether the product is allergic to you or not.
Liquid lash extensions Mascara: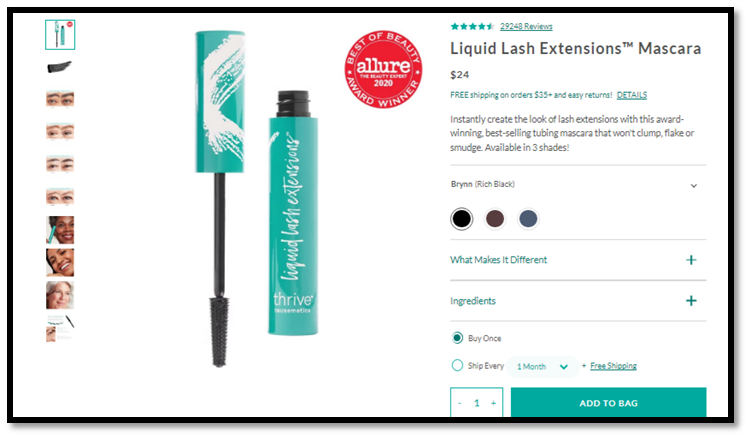 To enhance the beauty of eyelashes mascara is most commonly used. Since mascara is used in eyelashes so it's very important to use the right and safe product for the safety of your eyelashes and eyes. Common problems with mascaras are they did not stay last long, are hard to remove and some are allergic. But consumers of Liquid lash extensions Mascara of thrive causemetics have no issue with this product that's why it is the best selling product. It is Parabean free, Sulfate-Free, Formulated without Phthalates, Vegan, Cruelty-Free, and No Synthetic Fragrance used. Also, review of this product is very positive on every site.
This product has won several awards like Winner of the Allure 2020 Best of Beauty Awards for Best Tubing Mascara, Winner of the Glamour Best Clean Beauty Products of 2020 Award for "The Best Mascara", Winner of the Prevention Beauty Awards for 2019 for Best Mascara.
Brilliant Eye Brightener:
Want to make your under eyes look more illuminated, then eye brighteners are the best to use. Thrives Brilliant Eye Brightener is it's another best-selling product. On Amazon, this product has gained 4.5 stars, also on its website it has gained mostly positive reviews.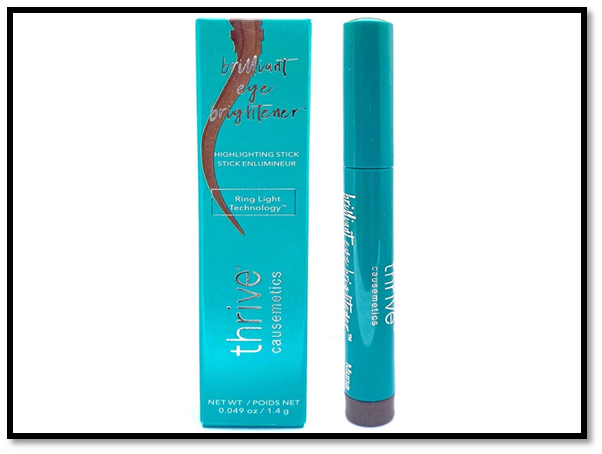 Contact details of Thrive Causemetics:
Their services are genuine they have the latest live chat medium through which you can connect with them. You can contact with them through text, call, email, and live chat.
Thrive Causemetics Review:-
In our opinion thrive causemetics is genuine and sells vegan and 100% cruelty-free products. Also, they are a part of PETA's "Beauty without Bunnies" program. Their all products are allergy-tested. Their products are free of sulfates, parabens, phthalates, added fragrance, latex, and lead. A variety of their products have been ophthalmologist and dermatologist tested and approved to be safe for use around the eyes and skin.
Thrive causemetics websites Review:
We tried to know about the popularity of the website through different tools.
The date of registration of this site is- 14-04-2014.
According to ubersuggest, this website has monthly traffic of around 349,855, which is amazing. This shows that this site is successful in attracting a huge audience. Also, the Domain authority of this is 54 shows a higher ranking in terms of Google search results.

On Scam adviser this website has gained a 100 trust score, which means this site is legit and safe to use.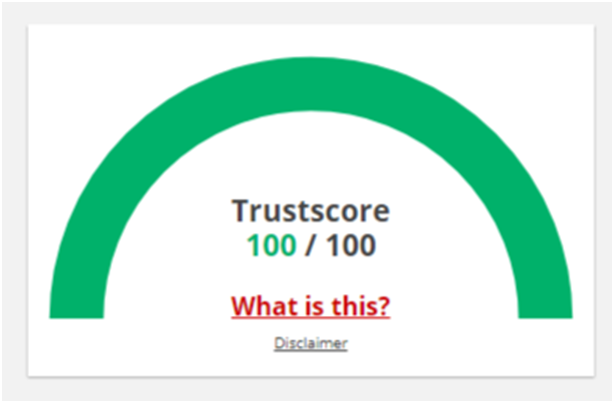 Final Wordings:
In the end, we say that thrive causemetics is a trusted and popular brand. They also run a mission to donate from every purchase of their products. Their products are Parabean free, Sulfate-Free, Formulated without Phthalates, Vegan, Cruelty-Free, and with No Synthetic Fragrance used. Their products are skin-friendly, Lab tested, and easy to use. The best thing is you can check every single ingredient of their products on their website.