Are you also searching for a deodorant that will control your body odor for the whole day? You have also seen lume in your search list and you will be curious to know whether it will work for you or not. Then you are in the right place. We will cover every aspect to review lume deodorant. Before moving on review section first let's check what lume is.
Lume:
Lume is a Personal care product selling company. They offer various deodorants, soaps, acidified body wash, and various types of laundry sprays. Their solid stick and cream stick deodorants are best-selling products.
Lume Deodorant is developed from naturally-derived ingredients and is also aluminum-free, baking soda-free, and cruelty-free, so you can feel confident using it on even your most sensitive skin. And, it's clinically proven to control odor—anywhere on the body—for 72 hours. Lume's patented formula eliminates odor-causing reactions anywhere on the body. Lume was invented by Shannon Klingman. They offer free U.S. shipping over 25$ purchases. Lume products are also available on Amazon and Wal-Mart.
Barrie Drewitt, the worldwide "odor guru," has been testing deodorants (and sniffing pits) for over 20 years, and works with all of the industry leaders. He is tough. He is trusted…and it seems Lume took him by surprise!
Social media Presence:
Instagram – https://www.instagram.com/lumedeodorant/?hl=en
Facebook– https://www.facebook.com/LumeDeodorant/
Twitter– https://twitter.com/lumedeodorant?lang=en
Tik Tok– https://www.tiktok.com/@lumedeodorant
Youtube– https://www.youtube.com/c/LumeDeodorant
Does Lume Deodorant Work?
A study was performed by Princeton Consumer Research on May 2020. This study is performed between Native (a registered trademark of P&G) and Schmidt`s (a registered trademark of Unilever) and Lume. Below we are attaching the results of this study in the form graph –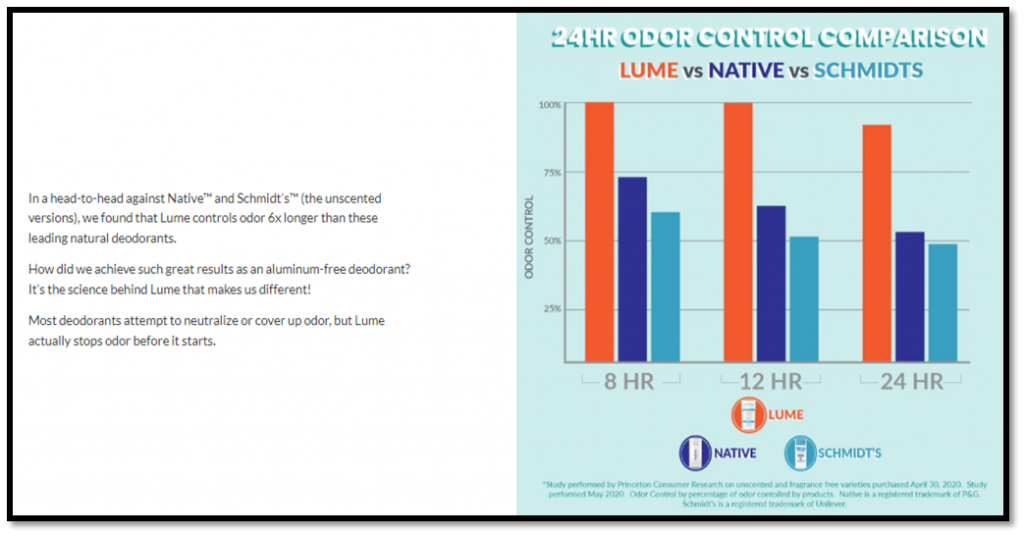 In this graph, you can see that lume deodorant is working better than the other two well-known deodorant brands.
Lume Deodorant Side Effects:
Lume`s products are free from Aluminum, Artificial Fragrances, Baking Soda, Phthalates, Sulfates, Parabens, and Talc, and also Lume is vegan and cruelty-free. According to Lume, you can use their deodorants on the whole body. Their products are clinically proven to use externally on the whole body. We didn`t find any Toxic or skin-sensitized ingredients in their product. Also after studying so many consumer reviews we did not find any side effects of lume deodorant.
Lume Deodorant Review:
The idea of Lume deodorant comes to the mind of inventor Shannon Klingman when she noticed that women are coming to a doctor near her house and complaining about odor below the belt. She has preferred private use of his deodorant. They advertise their deodorants as whole body use.
We found their products genuine and skin-friendly as their ingredients are clinically tested. And they have shown different reports on their website. Different press personnel has written blogs on their products. If you want to read a press blog about Lume then visit the given link: https://lumedeodorant.com/blogs/press
From Amazon to wall mart and also on their official website consumers have shown positive responses to their products. Below you can see some reviews from Amazon-
According to ubersuggest monthly Traffic on Lume deodorant website is around 274,907 which is a great number that shows that this site is successful in attracting a huge audience. Also, the graph of monthly traffic shows a gradually increasing curve that indicates that consumers are trusting Lume Deodorant products.


Final Wordings:
In our opinion Lume deodorants are working better and also this is the only deodorant to use on the whole body. In our view, this stays last long as lume claims. This is aluminum-free, baking soda-free, and cruelty-free, so you can feel confident using it on even your most sensitive skin. And, it's clinically proven to control odor—anywhere on the body—for 72 hours.
Additional Info:
The cause of the body can be different for every individual, for someone it can be due to hormones, the food you eat, infection, medications, or conditions like diabetes, liver, and kidney disease.  We highly recommend if your body smells too much then do visit the nearest health care.